US Open rewords men's and women's tickets competition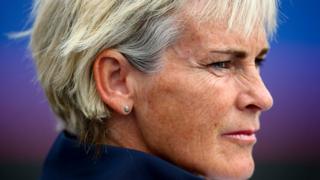 The website for the US Open tennis tournament has apologised for comparing the men's and women's semi-finals "unfavourably" and reworded its competition to win tickets for them.
The move followed criticism from prominent figures in the game.
The website at first explained how fans registering for a 2019 access pass could win a "grand prize" to see the 2019 men's semi-finals.
Runners-up could win tickets to the women's semi-finals.
Among those to point out the discrepancy were Judy Murray, mother and former coach of Wimbledon and US Open champion Andy Murray, and 18-times Grand Slam champion Martina Navratilova.
Ms Murray said the prize sounded "great... until you come to paragraph two", which read: "And if you don't win the grand prize, don't worry, there's more. You will have the chance to win 2019 women's semi-finals tickets."
In a statement the United States Tennis Association, which runs the US Open, apologised for the language it had used in its original description. "While describing the prizes in the Ultimate US Open Experience, the language used inadvertently compared the men's and women's semi-finals unfavourably.
"The US Open is proud of its long tradition of gender equity and we sincerely apologise for not adequately describing the differences in the prize packages," it said.
The US Open was the first Grand Slam tournament to offer equal prize money to men and women, in 1973. Wimbledon was the last to do so, in 2007.