SEE WHAT NIGERIA LADY DOES TO ENGAGEMENT RING BOYFRIEND BOUGHT FOR HER BEFORE DUMPING HIM


A Twitter user @Boluxxxxx took to her social media platform to share the story of how she kept an engagement ring her boyfriend gave to her.
The lady revealed in her post that they had just dated for three months and the guy was accelerating on a pace that she considered 'too fast'.
She also revealed that she quietly stole the ring and joined in the search for it when he begun looking for it and finally dumped him a week later.
Read her tweet below;
"Around this time 5 years ago I found an engagement ring in my boyfriend's wardrobe. We had just dated for 3months and man was gonna propose. I quietly moved the ring to the top of the wardrobe under the shoe box and joined him in looking for it till I broke up a week later. "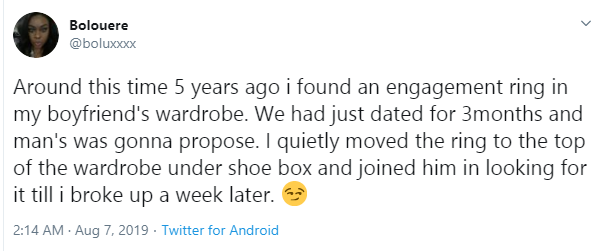 While some ladies would jump on this offer, this lady has chosen to use the exit door, because according to her, it was way too fast and they might be headed for a head-on collision.
Do you agree or disagree with her claims?