LAMPARD REVEALS HIS AMBITIONS FOR CHELSEA IN HIS FIRST SEASON
Chelsea legend, Frank Lampard is heading into his first season as the permanent manager of his former club and he would be starting with an important clash against rivals Manchester United.
The former England international is determined for his Blues side to maximise their potential and show what they are capable of in the coming weeks and months.
"We have had a good pre-season, but now the real stuff is coming,' said Lampard. "You can feel it in the air. I am excited and the players are excited, and now we have to deliver."
"With the ban it's been very easy to write off this squad, but I am not writing it off. We are hungry to try and prove to everybody we will be up there this year. I believe in this squad," Lampard revealed.
"What's important is you have one target within the group, and everyone else has their targets or predictions. I love listening to the radio and hearing people saying we're not in the top four, and reading all those predictions."
"It means there is a challenge. There is nothing better in football than proving people wrong. We should all accept that challenge. What matters is how we approach it. Within these walls we believe we can really have a go. I will drive that and the players will drive that," the former Derby County manager disclosed.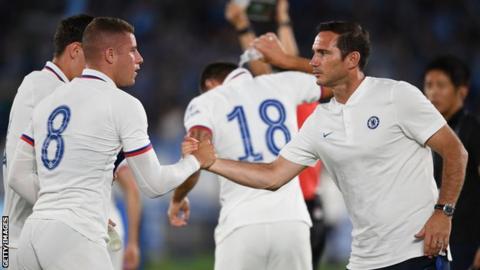 Lampard was the team captain on that glorious night in Munich when Chelsea won the UEFA Champions League in 2013. However, The Chelsea manager didn't want to specify a final league placing that would make 2019/20 a successful one for the club in his first season.
"Of course this club aims to be playing Champions League football every year. We did that last year and I would love to be able to do that again for us. I'm not settling for fourth place, but we're realistic. We will have to work every day to improve and improve and improve, and try and stay right up there," Lampard revealed.
"Manchester City and Liverpool showed the rest of us there is a gap, and that's a gap everyone has to try and make up. We are striving to do that. I don't want to get ahead of myself and say this position or that position will be a success," he continued.
"We can only admire some of the points tallies, but one of the beauties of football is every team starts the season the same, and then it's up to you what you do. We have to try and rise to that challenge."